Quick, Simple, Cheap, and Effective
It never ceases to amaze us how little people know about the Dendritic Hierarchy of Directories. It may have something to do with the fact that we just made it up, but just go with it, you might find it helpful and start quoting us.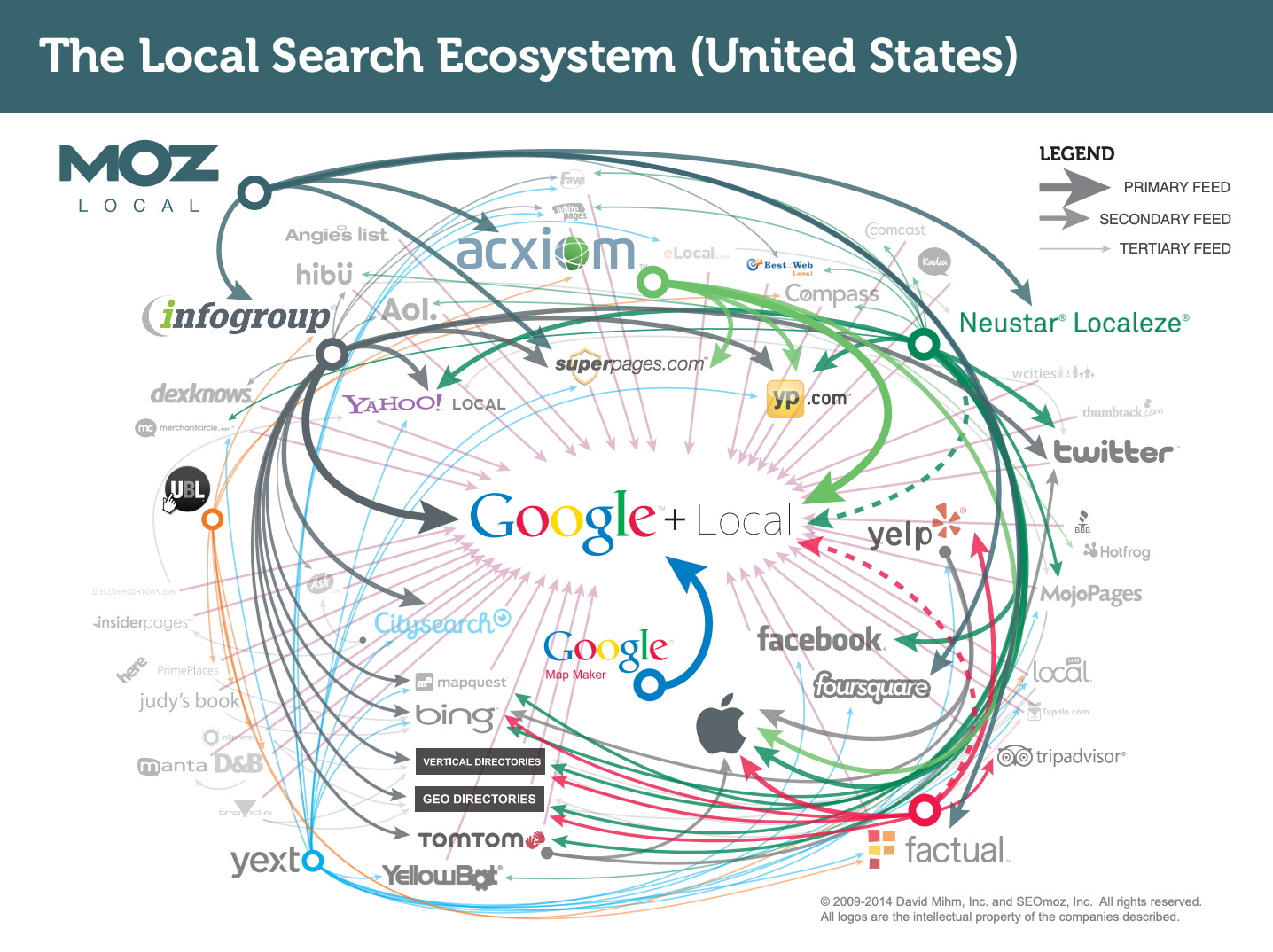 Source: You can download this image from Moz for greater clarity
Branching Out Your Exposure
For old timers, people who remember the value of Yellow Pages and White Pages, getting listed as a business owner was a no brainer. Before there was a Craig's List, newspapers were also handy places to list and advertise your services. The requirements were simple, the results were pretty good, and the effort required was negligible.
When it comes to 2020, the problem isn't that directories on paper don't exist, it's that we have so many different types online and the effort to manage your listings is not negligible. The diagram above is a good example of how local search is a giant spaghetti bowl of connections. We'll take a wild guess and say that most people reading this have probably paid zero attention to 90% of what is shown. With good reason. It won't break you to ignore everything but your Instagram, Facebook, and website.
Yet, the one thing this pandemic thing should have taught you is that the world of local search is a big deal. That the people who are succeeding are succeeding because of local and not because they flashed their audience on social and suddenly got a million sign-ups to their Only Fans account.
Think of directories as the burpees of fitness marketing. They do the body good but it doesn't mean anyone really enjoys them or looks forward to them when they are sober.
So, here are a few things to remember about getting cited in sources online so that people can easily find your business:
Have a physical location even if you are only online because the most effective way to be found is if someone can find you on a map. Probably best not to use your home address and it always pays to have a mailbox for your business, anyhow. If you are at someone else's location, it gets tricky, particularly if they already have a pretty good profile online. Best to have your own.

Know your category and your source, and never assume that you have everything covered because you don't. There are new listings and services popping up every day.

Understand what drives data for each source. For example, Google My Business is easy as pie. It should be your first port of call to make sure your business is listed properly in Google Search. Do it right, and you'll pick up no brainer leads.

Yelp is a cesspool of reviews masquerading as a resource but that's the game you have to play. The best example of Yelp-ing was a consultant who gave a free half-hour session in exchange for a good review. Didn't ask for a review as a condition of providing the service, but asked that if the customer liked the service that they would make sure to note it on Yelp. And it worked because Yelp would drive more leads, the consultant would do exactly the same thing with every Yelp lead which snowballed into more Yelp leads etc. etc. You get the picture.

Searching yourself isn't narcissistic when it comes to your business. You'd be surprised at what crap comes up. Doesn't have to be bad or embarrassing, it just has to get in the way of your business being seen at the top of the page. We've seen plenty of instances of CrossFit gyms not showing up when doing a local search for "CrossFit near me." Go figure that one out.

Stay consistent, and don't change the details of your listings or citations anywhere. It works out much better if no matter where your brand, your gym, or your business is found, the information remains up to date, and the same.
And what are some of the better sources to get noticed and make sure that your listings are relevant? Well, we said Google My Business and Yelp. Bing Places, Apple Maps, and Foursquare are low hanging fruit. If you have certifications from organizations that list their verified instructors, make sure they have up to date information. Kettlebell instructors - you suck at updating your information and no one can tell whether you are at StrongFirst, RKC, or are just shilling for Kettlebell Kings. Weightlifting, Powerlifting and Strongman gyms all suffer from hide-the-weights mentality, too. Search on Instagram and Facebook doesn't work the way search is supposed to work. It doesn't help people find you.
Oh, yah, update your damn bio on Breaking Muscle or get one on there by contributing because, you know what, it works in getting visibility if you focus on a topic, like CrossFit, weightlifting, powerlifting, strongman, strength and conditioning, and so forth.
And if that doesn't work because you want to keep building your own blog or whatever then, we just launched the beta for MyBoxGym.org and if you fill out the form, you'll get your own listing and we'll be promoting those gyms because we did say that we wanted to support Box Gyms. So, that's what we will do. Hopefully, if we all work together, we can create a resource, free and community-based, that will address the one segment of the industry that needs its own platform. And we'd like to know where all the gyms are where we can drop weights.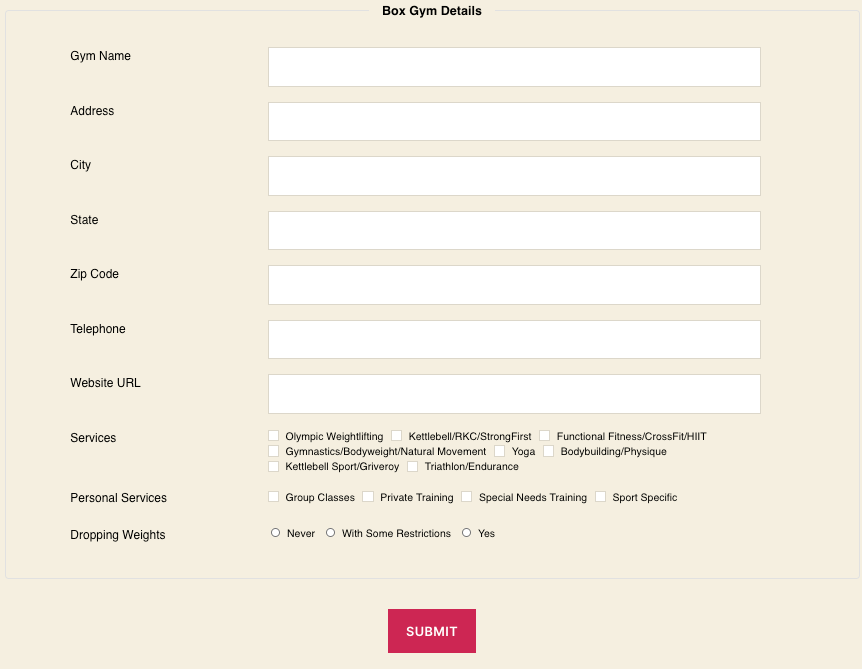 There are plenty of places to chase down to get listed and cited - Yellowpages is still there, the Better Business Bureau can be surprisingly beneficial if you cannot stomach the politics of it all, Angie's List works really well for privates and consultative services, and Facebook is probably a better source than Yelp but it really requires work to get the most out of it.
And here's the thing, if it takes you 15 minutes or 60 minutes for any listing or citation, you only need one fraction of a membership or private session to make it worthwhile over the course of a whole year. This is no brainer visibility. Use it as an exercise to become aware of how the world sees you, if they even do.